How Protiq uses paramate to
realize a fully scalable AM e-commerce business

The challenge
Traditional design processes for copper inductors were time-consuming and costly, hindering efficiency and scalability in an era demanding rapid customization and shorter product life cycles.
The solution
Utilizing trinckle's paramate technology, PROTIQ introduced a web-based inductor configurator, cutting design time from 3.5 hours to minutes, reducing costs by €350 per unit, and speeding up time-to-order from weeks to minutes, thereby unlocking scalable customization opportunities in industrial additive manufacturing.
Headquarters
Blomberg, Germany
Industry
Manufacturing Marketplace
>20 mins
Parameters allow full flexibility
Use case-specific geometry for higher performance.
3 mins
Manual design task automation
3.5 hours to 3 minutes, reducing design costs by 350 € per unit.
10 mins
Reduced time-to-order
From two weeks to 10 minutes, plus live pricing within the configurator for direct online orders.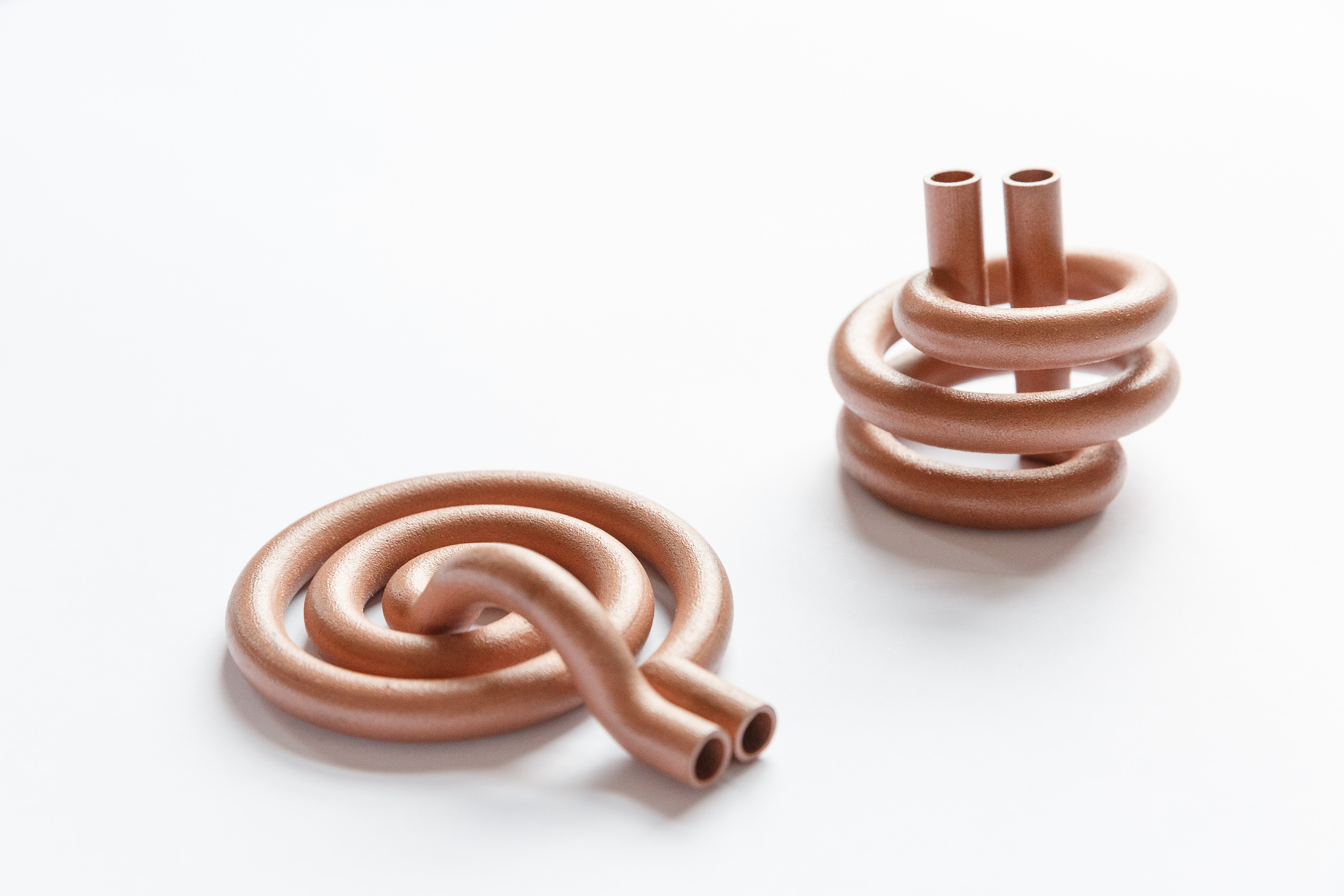 Why copper inductors are a perfect use case for additive manufacturing
Copper inductors are tools used for metal processing in manufacturing industries using induction heating. Their coil geometry must adapt as precisely as possible to the shape of the particular metal workpiece to reach the best efficiency levels. The fact that additive manufacturing manages complex geometries including windings and ducts quite easily and considerably cheaper than conventional production processes like bending and brazing, makes copper inductors a perfect use case for additive manufacturing.

PROTIQ – a Phoenix Contact Company that has become a pioneer in industrial additive manufacturing – produces these customer-specific inductors using selective laser sintering for copper.
Business case bottleneck: Manual design
This seemed to be a promising business case if it had not been for one remaining hurdle: The design process of those individual inductor geometries. Generating those design variations in a conventional CAD design process comes along with many manual and recurrent design tasks. This time-and-cost-intensive workflow would have killed the business case for PROTIQ.

That was when Dr. Ralf Gärtner, Managing Director of PROTIQ, met us and learned about our paramate software platform. Based on paramate's cloud-based architecture, we developed a web-based configurator for inductors that enables customers to intuitively configure and order customized geometries in a few minutes.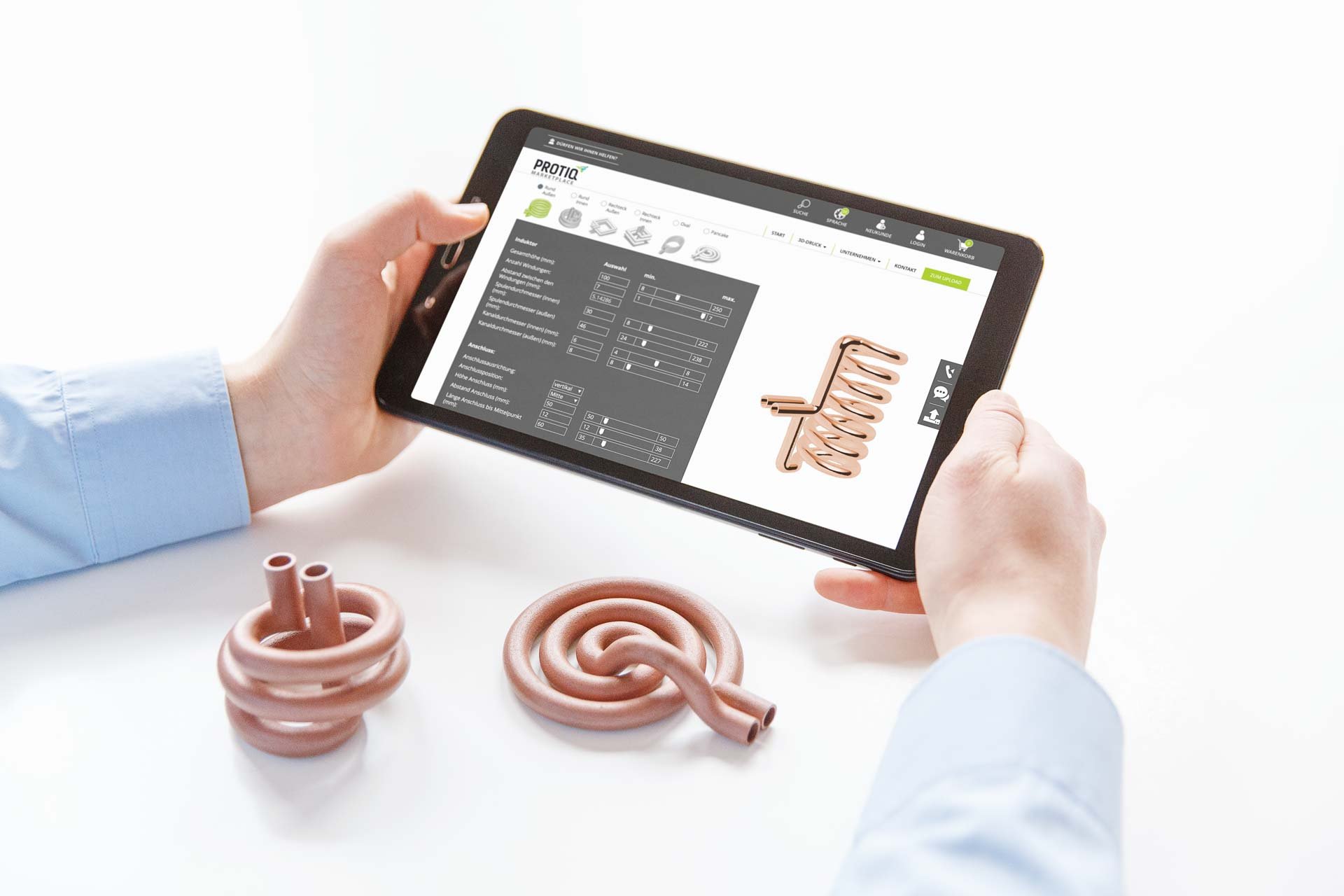 "The inductor configurator was tailored by trinckle to meet the exact requirements of our industrial customers. Users can simply select the required basic shape and determine parameters such as the number of turns, the coil diameter or the positioning of the connection plate according to their own application."
DR. RALF GÄRTNER
MANAGING DIRECTOR PROTIQ GMBH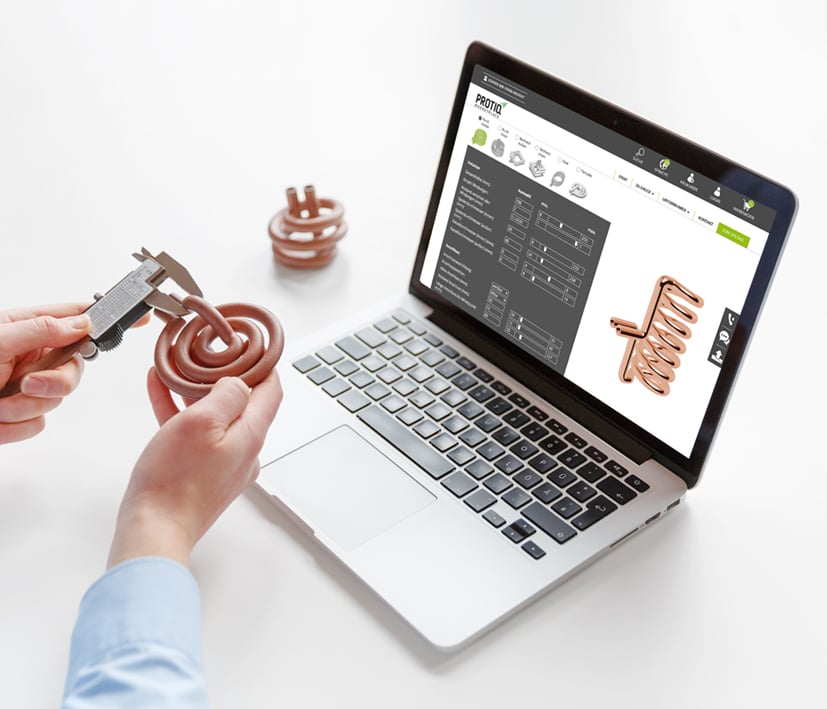 The configurator: How does it work?
The inductor configurator is a plain example for design automation based on paramate. Instead of manual design steps in conventional, highly complex CAD tools, we use a parametric design approach and make it accessible in intuitive web applications.

Around 20 open parameters give full flexibility to the user to adapt the geometry exactly to his or her needs. At the same time, we take all interdependencies into account to ensure the functionality and printability of the geometry. There is no need for CAD experience or knowledge regarding AM-ready design. Configurators based on paramate eliminate the complexity of traditional product development. PROTIQ's customers are integrated into the design ­process.

Moreover, prices of the inductors no longer have to be calculated in a separate process step but are shown instantly within the web application. The copper tools are ready to order. Sending requests and proposals back and forth belongs to the past.
Configurable inductors are just the beginning
"Our customers have shown a great interest in the configurator. We have more ideas to extend the functionality of the inductor configurator, which you will see in the future. And we are already thinking about other products in our portfolio that gain added value by customization."

DR. RALF GÄRTNER, MANAGING DIRECTOR PROTIQ GMBH

For us, PROTIQ realized a best-practice application, based on paramate. For additive manufacturing in industrial environments, this could be a game changer: The evolution from prototyping to scalable customization business cases with end-products. The number of potential business cases is unlimited. paramate itself can be used for design automation in various industries such as tooling, robotics, medical devices, automotive, or consumer goods.

Stop wasting your time on repetitive manual design tasks and let paramate's algorithms automate even the most complex design processes!